The Weekend Australian
28 April 2012
A dad-and-daughter road trip unfurls to a perfect beat by Kerrin O'Sullivan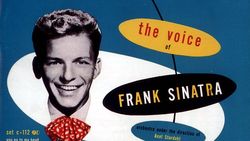 We have the granite-dotted summit of Arthur's Seat on one side, and the show-stopping sparkle of Port Phillip Bay on the other. Weaving through the villages and vines of Victoria's Mornington Peninsula, our heads twist left and right. It's like watching table tennis with views.
As a backing track to these unfurling vistas, Frank Sinatra is crooning,
"Who knows where the road will take us? Only a fool can say.'"
Who knows indeed? The other Frank, my 89 year-old father, and I have taken to the road for a week.
The peninsula's candy-painted beach-boxes are just a rear-view memory as next morning, we bypass Melbourne and push north towards viticultural Heathcote. At Tooborac we break for a cellar-door tasting plate and a glass of Dad's pick, Shelmerdine shiraz.
Trip preparations have been military-like - maps, medical kit and music selected from Dad's prized Sinatra collection. But as the road's white lines ribbon ahead, I'm caught short. My father loves politics and there's nowhere to hide. Climate change, carbon tax, Euro crisis, Arab Spring - nothing is off limits. Fence posts flicker past and the car becomes a political universe on wheels.
Sinatra rescues me with his soulful rendition of
Ol' Man River
as we pull into Echuca with its paddle-steamers and own ol' man river, the Murray. Next day, we explore Barmah's world-famous wetlands, where 500-year-old red gums trace billabongs and overhang sandy riverine beaches. At Lake Mulwala, blackened trunks sprouting spindly ghostlike arms all but hypnotise us with their other-worldliness.
Speedometer klicks build as we explore the northeast's gold-rush boom towns. We stop where we want, when we want. Our accommodation varies on a whim: golfer's cabin one night, a B-and-B or a lake-side cottage, the next. Each morning, army-early, Dad marshals me into action, "Wheels rolling!"
As conversation replaces the static crackle of the radio, stories trickle out. He talks of childhood summers, the Depression, of serving on an island off Borneo in a world at war. When Ol' Blue Eyes purrs
"It was a very good year"
, I join in with gusto, vanquishing the lump in my throat.
Nestled in the foothills of the Victorian alps, heritage Beechworth charms with its popular bakery, antiques and old-fashioned lolly shops; we stock up on delicious spotted gum and creamed ginger honey. On the Gorge Scenic Drive we kangaroo-hop between lookouts where granite tors have weathered into strange shapes. It was in these rugged hills that bushranger Ned Kelly and his infamous gang roamed.
We motor on and on until Rutherglen's grapevines lure us to wineries boasting big reds and ruby port. Ol' Blue Eyes sings us on our way with
Days of Wine and Roses
, but soon Dad is checking out the Milawa cheeses for a goat's milk chevre for us to share.
Searching for a short cut through wine territory, I take a wrong turn and we get lost.
"Should I play,
I'll be home for Christmas
?" Dad quips as we ford a pebbly brook of staggering beauty.
The King Valley's lush green alluvial flats welcome us back on track. Towns tick by - Tolmie, Mansfield, Alexandra, Acheron. We skirt Cathedral Range and lunch at Marysville, energetically rebuilding after the 2009 Black Saturday bushfires. From Narbethong, we wind through the Black Spur's sweet chilled air. Towering mountain ashes dwarf dew-damp ferns, their fronds filigreed.
On our last day, Dad requests a Devonshire tea with lace and doilies, so we linger awhile in the Dandenongs, before returning to Melbourne. As the black bitumen beneath our tyres guides us home, Ol'Blue Eyes belts out,
Fly me to the Moon
.
A coincidence? Or a suggestion for our next trip?
I'll have to brush up on my map-reading for that one.
© 2012 Kerrin O'Sullivan